山﨑拓巳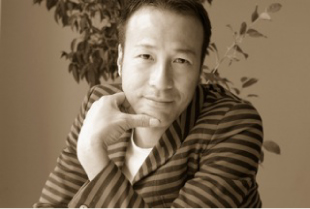 1965年三重県生まれ。
「凄いことはアッサリ起きる」-夢-実現プロデューサーとして"メンタルマネジメント"
"コミュニケーション術""リーダーシップ論"など多ジャンルにわたって講演活動中。
並外れた話術とカリスマ性、斬新なビジネス理論で、男女を問わず多くの人々を魅了する。

著書には『やる気のスイッチ!』『がらっと』(サンクチュアリ出版)
『凄いことがアッサリ起こる44のルール』(PHP研究所)などがあり、累計販売部数は
110万部(2013年5月現在)を超える。

また出版以外でも、映像製作、絵画、イラスト、写真、音楽プロデュースなど、
幅広く活躍している。イラストにおいても「Cancam」「Oggi」「BRUTUS 100人art展」「テレビ愛知」「人材派遣のオリファ」などで
採用され、高い評価を得ており、その他、BLUE NOTE DJ MIX BY KEI KOBAYASHI 「Routine Jazz!!」シリーズ(小林径など)
USAギターリスト「ED GERHARD」「lovefish」等のCDジャケットを手がける。

山﨑拓巳
1999.6

N.Y.SOHOにて、初の個展『parallel world』

1999.10

神戸・北野にて、個展『moderngirls』

2000.6

東京・代官山にて、個展『happy』

2000.8

東京・渋谷にて、個展『flash back』

2001.冬

1月は岡山、2月は東京にて、個展『瞑想』

2001.4

東京・神宮前にて、『5秒後の未来・原画展』

2001.5

群馬県・前橋にて、個展『bleu』

2002.6

早稲田大学にて、個展『bleu』

2002

春秋全国六ヵ所(大阪、沖縄、高松、札幌、名古屋、東京)巡回展『Synchronicity』

2002

三重・志摩にて、個展『Dictionary』

2003

東京国際フォーラムにて『Rock You』

2006

atelier&gallery memeにて個展開催 100人展art開催

2007.2

岡山:公文庫カフェ『JUNK』(岡山ルネスホール内)

2008

山崎現代美術館okayama ~ open

2010.4

大阪 ArtsCafe~

2011.2

ギャラリーhama/六本木/大阪「カバのあくび」個展開催

2011.8

大阪 ArtsCafe~『カバのあくび』個展開催

2012.1

三重鈴鹿 -cafe & boutique Julep-『カバのあくび』個展開催

2013.6

2014.8-10
山﨑拓巳
Takumi Yamazaki was born in Mie Prefecture, Japan in 1965.
He is a lecturer and motivational speaker on leadership theory for multiple genres.
His theory incorporates communication technique and mental management.
His motto often includes the phrase "amazing things happen unconsciously." He considers himself a "producer of real dreams." Besides extraordinary public speaking skills, charisma and creative business theory, his strong message by his unprecedented perspective has continued to attract many men and women.

His major publications include: Yaruki no Switch, Garatto(Sanctuary Publishing), and Sugoikotoga Assariokiru 44 rules (PHP Institute) which sold over 1,100,000 copies as of 2013.
He is also an essayist, artist, illustrator, creative web director, film producer, designer and music producer. His illustrations have been featured in:「CanCam」,「Oggi」,「BRUTUS 100people art show」,「Aichi TV」, and「Temporary Employment Agency, Orifa」.
He also produced the CD covers for Blue Note DJ Mix by KEI KOBAYASHI 「Routine Jazz!!」series, American guitarist「ED GERHARD」,「lovefish」and many others.
In June of 2013, Takumi and his team installed 202 paintings and drawings in collage at Bohemian New York.
This series was made in Paris in response to the art, life and story of New York artist Jean-Michel Basquiat.
He calls this "DIALOGISM," a conversation with another artist while using that artist's vocabulary or a part of it to create a new work in response to the artist.

山﨑拓巳
06/1999

SOHO, New York First Exhibition『parallel world』

10/1999

Kobe・Kitano Exhibition『moderngirls』

06/2000

Tokyo・Daikanyama Exhibition『happy』

08/2000

Tokyo・Shibuya Exhibition『flash back』

winter/2000

Okayama on Feb in Tokyo Exhibition『瞑想/Meditation』

04/2001

Tokyo・Jingumae『5秒後の未来/the future after 5 sec・Exhibition of original image』

05/2001

Gunma・Maebashi Exhibition『bleu』

06/2002

Waseda University Exhibition『bleu』

2002

6 places(Osaka、Okinawa、Takamatsu、Sapporo、Nagoya、Tokyo)Exhibition tour『Synchronicity』

2002

Mie・Shima Exhibition『Dictionary』

2003

Tokyo international forum『Rock You』

2006

Atelier&gallery meme Gallery Exhibition of 100 people art show

02/2007

Okayama:Kobunko Cafe『JUNK』(inside of okayama Renaiss Hall)

2008

Yamazaki Modern Art Museum in okayama open

04/2011

Osaka ArtsCafe

02/2011

Gallery Hama/Roppongi/Osaka Exhibition「カバのあくび/A yawn of Hippopotamus」

08/2011

Osaka ArtsCafe Exhibition「カバのあくび/A yawn of Hippopotamus」

01/2012

Mie Suzuka -Cafe & boutique Julep- Exhibition「カバのあくび/A yawn of Hippopotamus」

06/2013

NOHO, New York Bohemian New York

08.10/2014

Exhibition in N.Y.BOHEMIAN NEW YORK 【「ダイヤロギズム」】
http://www.youtube.com/takumovie49

E-mail: ny-info@playearth.jp
Artist Contact: dana37@dream.com
Blog: http://taku49.blogspot.jp/
Mailing Address: 57 Great Jones Street 2F, New York, NY 10012

Copyright 2008 Takumi Yamazaki. All Rights Reserved.